Messages.
Preached Messages by Pastor Zewedi.
Below are some of the messages that has been preached or taught by Pastor Zewedi.It has really been a blessing to us and we hope that its going to be a blessing to you as well.
CONVERSATION THAT GLORIFIES GOD.
CONVERSATION THAT GLORIFIES GOD
__ Let your Conversation be always full of grace , seasoned with salt, so that you may know how to answer everyone. (Collossians 4:6)
WHAT IS CONVERSATION?

__Conversation is mostly defined as a talk or passing of a message.
WHAT SCRIPTURES SAYS
ABOUT CONVERSATION

Scriptures has a lot to say about Conversation;
Your ability to communicate is a gift from God. God gave

you your ability to speak

when He created you. When God spoke to Moses through a burning bush, He made this very clear. He said to Moses;
"Who gave Man his mouth? is it not the lord?
(Exodus 4:11)
Just stop and think for a Moment that your speech is a gift from God!
Now have you ever asked yourself in what ways does your conversations honors or dishonors that gift.
2.Your words reveal what is in your heart. The Bible says clearly that what you say comes from the condition of your heart.
"The good Man brings good things out of the good stored up in His heart, and the evil Man brings evil things out of the evil stored up in His heart.
For out of the overflow of His heart the mouth speaks.
(Luke 6:45)
Your spoken words reveal the character of your heart to others much like a mirror reveals the features of your face to your self.
If you had a mirror that could look into the depth of your heart, what would you see?
3. Your words can cause sin i.e anger, malice, slander ,filthy language and lies.
The apostle Paul tells us what to do with such a things in (Colossians 3:5) and continues in (Colossians 3:8-9)
Many people like to Rationalize sins, Remember that SIN is SIN. The Bible says that the Lord hates perverted mouth. (Proverbs 8:13)
Your words can be used to curse and harm others, or to bless, encourage and Heal.
__The Example sets by the world around us manifests itself in our daily lives in the worst of ways .As we feel free to say ,what we want, whenever we want. We feel we have a right to know and spread anything and everything about others, such conversation or words can cause;
(a)Lead to hurt or separation of Friends (Proverbs 16:28)
:Troublemakers start fights, gossips break up friends.
(b)Cause Anger.
A gentle answer turns away wrath, but a harsh word stirs up anger (Proverbs 15:1)
© Are destructive- words can be destructive to one's character or reputation.
With his mouth the godless destroys his neighbor (Proverbs 11:9)
(d)Cause you to loose fellowship with other Christians.
I know that right now many of us relates to the named consequences, which one of these do you personally think to mostly relate.
USING THE GIFT OF SPEECH AS GOD INTENDED.
_ I know that for many of us ,it's hard to resist uttering harshly or unthoughtful words in conversations, but the Bible says that you MUST. A MANDATORY!
Let your conversation be always full of grace ,seasoned with salt ,(Colossians 4:6)
God intends that your speech always be used to bless others and honors Him
You may say that Oh No! It's hard, it's Impossible, That's right coz you cannot do it on your own. But remember God gave you your mouth ( Exodus 4:11) and He is aware of your difficulty in controlling your speech. As a Christian you can be rest assured that God is in control as He walks with you daily .Jesus said " With Man this is impossible ,but with God all things are possible (Matthew 19:26)
WHAT CAN YOU DO TO MOVE TOWARDS MORE GODLY

CONVERSATION?
(1) Recognize the sin in this area of your life and know that all sins must be repented of, but before you can turn away from it, it must be recognized. If we say or claim to be without sin, we deceive ourselves and the truth is not in us.(1John 1:8).
(2) Acknowledge that you choose your words. You choose to let wholesome or unwholesome come from your mouth (Ephesians 4:29).
(3) Pray for God's help to overcome sins of speech, and remember that God is always available to listen to you and to see you through any situation if only you ask Him.(I Corinthians 10:13)
(4) Use your speech only in a way that honors God, you were given the gift of speech to glorify God by speaking the truth. The Holy spirit was sent to help you do this. Jesus said that when the Holy spirit comes to you as a believer, Read John 16:13-14.
(5) Learn to listen more. Just as your heart and character are revealed through what you say ,so others revealed themselves to you when they speak. Listen to what they are trying to tell you. My dear brothers take note on this; everyone should be quick to listen and slow to speak(James 1:9)
Have you ever felt that someone is not listening to you, when you were talking?
(6) Refrain from ungodly talk .Refuse to partake in and listen to slander or gossip. (Titus 3:2)
PRAYER
As you pray after this service, tell God you know that slander, gossip, and unwholesome talk are wrong and hurtful to others. Ask Him to help you live a quiet life ,minding your own business and praying for others, so that your life can be godly example to others.
2007.
UPROOTING THE SPIRIT OF FEAR.
.

UPROOTING THE SPIRIT OF FEAR

Fear is a very serious attack that the enemy uses against humanity. Its good to learn how to defend ourselves against this evil. Fear Intends to destroy our faith .Fear comes in many shapes and sizes, but the final outcome is the same to steal, kill and destroy.

God has provided the ability to overcome fear and know that faith brings us victory.

Fear Defined:

Fear can be defined as uneasiness, or anxiousness, but in a Biblical point of view ,fear is more than a feeling, but it is a spirit.

2Timothy

1:7 says,

God hath not given us the spirit of fear ,but of power, and of love, and of a sound mind.

When a believer is influenced by the Holy spirit we call it an anointing .The anointing of the Holy spirit empowers and His empowerment enables a Christian to do things they could never do in their own strength and wisdom.

The presence of a spirit of fear in your life also brings with an anointing-which is a negative one-Destructive anointing.

-

Instead of empowering you, fear paralyzes you.-

Instead of giving you

wisdom, fear causes you to make poor decisions.

Fear always rushes in when faith is not present. We get a clear picture of this very thing happening in one of the incidents in the ministry of Jesus.

Matthew 8:25,26

Do you see the connections Jesus made?

"Why are you afraid? you have little faith,

Jesus was attributing their fearfulness to a lack of faith.

-If you have faith ,you will not have fear.

-If you have fear, it is because you have little faith .Perhaps you know that attention to God's word brings faith.

Romans 10:17

-But did you realize that attention to Satan's words brings fear into your circumstances?

-You give the devil place by paying attention to his words and thereby beginning to operate in fear.

-Fear will open the door for the devil to come in and kill, steal and destroy. Fear comes by hearing and hearing means it can enter you when paying attention to people when are speaking negatively about you.

Fear produces bondage, faith produces Liberty. Faith brings freedom which is why the devil works so hard to keep Christians in fear and out of faith.

Matthew 14:25-31-This is the account of Jesus walking on the water.

Simon Peter fired faith and re-hired fear and so do many Christians..

Job 3:25

Job had been living in Fear for years. Infact one of the first things we are told about Job is that He was continually offering sacrifices for His Children. He was afraid they might committed some awful sin.

Job was consumed with fear.

-He was afraid His children were going to curse God.

-He was afraid was going to lose everything as a result and Job's fear caused God's hedge of protection around Him be lifted. God did not lift the hedge but Job's fear did.

How does fear comes? as a reciprocal of faith, fear comes by hearing and hearing by words of the devil

Examine yourself, what are you afraid of? what worries and anxieties consistently occupy your thoughts? Are you afraid you will never find a suitable Wife or Husband?

Are you afraid of losing your spouse?

Are you afraid of not finding a job?

Are you afraid that your Children are going to be rebellious?

Please I urge you to identify your fears and then attack them, make a quality decision to uproot any fears which as been plaguing you for years-Purpose to remove it RIGHT NOW!!

Read Numbers 13:30 onwards,

The ten spies saw giants.

Caleb and Joshua saw the Covenant Israel had with almighty God. The same God later delivered David from Goliath, Shedrack, Meshach and Abednego from the fiery furnace, and Daniel from the Jaws of the hungry Lions. Compared to the size of Caleb's God, those giants looked like Ants.

The spies operated in Strong Fear, Caleb and Joshua operated in strong Faith.

3 KEYS TO UPROOTING THE SPIRIT OF FEAR. (1)

Making a quality decision. Look at Psalm 118:6(2)

Understanding the magnitude of God's protection. Look at Isaiah 43:1,2(3)

Develop Confidence in God's Promises. Look at Isaiah 55:11,Galatians 6:9

3 KEYS TO STAYING FREE FROM FEAR(1) Live right. 1John 3:21(2) Speak the word--- You must generate faith by speaking God's word regardless of the way

circumstances look around you---Isaiah 54:17

NO WEAPON FORMED AGAINST ME SHALL PROSPER!!!(3) Stay in the Light of the presence of God 1John 1:7---- Fear will cause you to try to hide

yourself from the light of God. Remember Adam's response after He disobeyed God! Genesis 3:8-10

The next thing you know from Adam and Eve, you are hiding out from God in Fear and the devil is speaking to you negatively.

Do not fall unto that trap- when you miss it—Repent!!

Read 1 john 1:9

GET RID OF THAT FEAR

There is no place of fear in the life of a believer. The spirit of fear will Rob you of everything that is sweet and good about the Christian Life on this earth .It will steal your peace and torment your soul. But that is not the worst thing about fear, The most devastating aspect of fear is that, as the reciprocal of faith ,it opens the door to the very things you fear the most. It is time to get rid of fear!!! All of the steps you need to take to come out of fear and get into faith are actions!

(1)

START CHANGING THE WAY YOU TALK.(2)

STOP SPEAKING OUT WORDS OF FEAR AND DOUBT.(3)

BEGIN TO SPEAK GOD'S PROMISES THAT APPLY TO YOUR SITUATIONS.(4)

DO THESE THINGS AND THE SPIRIT OF FEAR WILL BE UPROOTED FROM YOUR LIFE.THEN LOOK OUT! A LOT OF BLESSINGS,POWER AND PEACE ARE HEADED YOUR WAY!
Pray over supporting us to broadcast our programmes in our local Christian Television SAYARE with a gift of only $200 a month.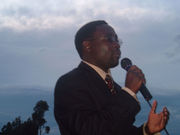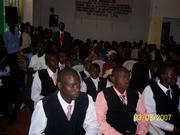 Spending time alone with God!
SPENDING TIME ALONE WITH GOD

Let's say you are in a dating relationship. How does it get to be a relationship? First you meet that special someone and are attracted to Him or Her. Then because of the attraction, you want to get to know the other person better. So you begin to spend time with the other person ,and the more time you spend together the better you get to know each other. Eventually the two of you develop a loving relationship, and as your Love grows stronger, the time you spend together grows more special.

The same is true with your relationship with Jesus Christ. Once you have been introduced to Him, you begin process of building a relationship with Him.

ONE OF THE SECRETS OF ALL GROWING, DYNAMIC CHRISTIANS IS THAT THEY CONSISTENTLY SPENT TIME ALONE WITH GOD.

But I go to church. What's so Important about spending time alone with God? By spending time alone with Jesus Christ you get to know Him on much more Personal, Intimate Level.

Getting to know Jesus Christ better and better should be a top priority for every Christian. When we spend time alone with Him, we get to know Him in a personal and Intimate way.

How Important was knowing Jesus Christ to the Apostle Paul? (Philippians 3:8)

Time alone with God is when God can speak to you about your own Life. Example of people who are always on the run. Appointment to Appointments, Friendship to Friendship, Relationship to Relationship. But how often do you sit down just to take an honest look at your life? Do you take time evaluate where you are going and who you really are? A time alone with God helps you see yourself as He sees you.

During time with Him. God also shows you how to be more like Jesus. He does this in two ways.

(1)

He lets you know who you are Not as a Christian. He points out sins in your Life, He helps you admit them, and gives you the power to overcome them;(2)

God shows you who you are. He helps you discover the gifts He has given you and offers personal guidance so you can become the best person you can possibly be.

The exciting truth is that God wants to have fellowship with you. A close growing relationship with Jesus Christ brings joy to you and to Him.

As you fellowship with Jesus Christ, you soon realize that He had to pay an awesome price to make your relationship with God possible. Jesus was nailed to a cross. He shed is blood. He sacrificed His life. Why ? because there was no other way to bring you and God together, and Jesus Loved you enough to pay that Price.

Jesus deserves your attention. He is more than worthy of your praise, your Love, your adoration and your Life. Spending time with God allows you take your eyes off of yourself and focus then on Jesus.

Mark 1:35 Even Jesus, during His time on earth, actively sought fellowship with His Father.

He sought fellowship with God early in the day.

He went to a solitary place and prayed.

Because Jesus met alone with God regularly, He had the strength to do His Father's will. Luke 4:1,14.
THE PARABLE OF THE SOWER,

MATTHEW 13:1-23
(1) Seeds that fell by the Roadside (wayside, beside a path).
(2) Seeds that fell on a shallow rocky soil.
(3) Seeds that fell among thorns.
(4) Seeds that fell on good grounds.
THE MEANING OF THE PARABLE OF THE SOWER:
(1)The seeds that fell by the roadside(wayside, beside a path:
This is when someone is hearing the word of the kingdom and does not grasp-and comprehend it. It represents the heart of a person who hears the good news about the news of the Kingdom and does NOT understands it. The Satan comes and snatches away the seed from his heart.
(2)The seeds that fell on shallow Rocky soil. Represents the heart of a man who hears the message and receives it with Joy at once! But since He has NO ROOT, he lasts only a short time! And when affliction or trouble or persecutions comes ,he quickly falls away(his enthusiasm fades and he drops out, He is caused to stumble.
(3) The seeds that fell among thorns: Represents a Person who hears the word but the cares of the world and all the pleasures ,delight and all things which are unpleasing unto God, chokes and suffocates the word and it yields or bears NO fruit. Someone does less and less for God
(4) The seeds that fell on the Good ground: Represents the heart of a person who listens to the message and Understands it and goes out and share with others, and bring others to Christ. This are people who grasps and comprehend the word. He indeed bears fruits.
Examine yourself and see which type of soil does your heart Represent: By Pastor ZewediSep 17th 2006.
LAYING ASIDE UNNECESSARY WEIGHTS!
"Wherefore seeing we are compassed about with such a great cloud of witnesses, lets lay aside every weight."

(Hebrews 12:1)
What is it that keeps hindering you from living a life of obedience?

Do you struggle with a particular sin, habit, attitude or fear that keeps you from running your race of faith the way you ought?

If so, you probably already know what it is, and I' d guess that you have already prayed, prayed and prayed for victory in overcoming that problem because you really do want to please.
Every now and then, we all tolerate things in our lives that make it difficult for us to please God.

And when we know that we are not pleasing God, we typically aren't happy with ourselves either.

This is one reason that Hebrews 12:1 tells us to "Lay aside every weight".
Removing wrong attitudes and actions from our lives will not occur accidentally.

We must decide to change – to remove, to lay aside, and to put away attitudes and actions that don't please God and adversely affect our walk of faith.
Hebrews 12:1
refers to these incorrect attitudes and actions as "weights".

The word 'weight' is from the Greek word Ogkos – a word that describes a burden or something heavy and cumbersome that it impedes a runner from running his race as he should.
This word was particularly used in the athletic world to signify the actions of an athlete who would deliberately or willingly strip himself of excess weight before participating in a competition.

This stripping process included the loss of excess flesh through dieting exercise.

Then in the day of actual competition, he stripped off nearly all his clothes so no extra weight would slow him down.

He had his eye on the prize, so he was determined to strip off all "weight" that might potentially keep him from being the best athlete he could be.
This sends a strong message to us.

If we ant to please God, satisfy ourselves and do something significant with our lives, we have to choose to remove anything from our lives that would hinder those objectives.
The Kenyan athletes who have so far won all kinds of medals, didn't become unweighted by accident.

They dropped all excess weights on purpose.

They dieted, they exercised and they shed every other unnecessary weights they could wish to shed.

This stripping process demanded their attention, their decisions and their devotions.

It wasn't going to happen by accident, so they had to initiate the process of removal.
What if those athletes had tried to run their race with loads of extra weights?

They certainly wouldn't have been able to run very far!

This is exactly hat the sinful habits and attitudes do to your walk with the Lord.

If you don't remove them, they will eventually weigh you down and knock you out of your race of faith.
The Holy Spirit is urging you and me to take a good look at our lives and then remove everything that weighs us down and keeps us from a life of obedience.

We must be honest with ourselves and with God.
Do you have a habit or a wrong attitude that binds you?

Are you plagued by a far that weighs you down and keeps you from fulfilling your potential in Christ?

Make a rock-solid, quality decision today to grab hold of those unnecessary burdens and remove, lay aside and permanently put them away from your life.
Once you make that decision, you will find yourself running your race of faith with much more ease as you press on the VICTORY!
MY PRAYER FOR TODAY
Lord, I know that you are on my side an that you want to help me. So today I am asking you to help me lay aide the attitudes, negative thoughts, patterns and bad habits that keep pulling me back down into miserable defeat.

I am exhausted from trying to live or you while dragging along these old weights behind me at the same time.

I need to drop them and leave them behind.

So today I am asking you to help me make the big break.

Help me make this day, I permanently drop all the unnecessary weights that hinder me an walk away from them forever.

I pray in Jesus Name!

Amen.
MY CONFESSION FOR TODAY
I confess that I live a life of obedience.

Sin, bad habits, negative attitudes and fear have no influence in my life.

Because I am from free of these things,

I am able to run my race of faith without any hindrances caused by my own actions.

Because I want to please God, I do not tolerate things in my life that make it difficult for me to walk by faith or to please God.

Absolutely nothing is more important to me than knowing God's will and doing it in a way that brings pleasure to the Lord
I declare this day by faith in Jesus Name! Amen.