ABOUT US.
L C C KENYA.
ABOUT THE MINISTRY
Lives Changing Church is an outreach Ministry of the LIVES CHANGING GOSPEL OUTREACH MINISTRIES. Mr. Moses M. Zewedi, Pastor and founder, received the vision for Lives Changing Gospel Outreach Ministries in September 2003 while a Pastor at Calvary Baptist Church Kitale, Kenya. God instructed Mr. Zewedi to teach the word of God to the body of Christ with simplicity and understanding. Since then He has been blanketing the towns and cities of Kenya with the Life changing Gospel of Jesus Christ.
Lives Changing church reaches out to the people of Kenya through several avenues:
Prison Ministry
Youth Ministry
Women Ministry
Crusades
We are committed to:
Praying God's will for total prosperity in your life daily.
Studying the word and diligently seeking His guidence.
Your part is to:
Become a partner
Pray for us always
We exist to worship Christ and to preach and teach the word of God with simplicity and understanding.
Christians have a lifelong goal; to become like Christ. This involves change, and change isn't always easy; But the more you know of God's purpose for you, the more you can experience His joy and participate in His plan.
Our intercessory prayer team is standing in the gap for you twenty four hours a day, seven days a week. We join our faith with yours and believe with you for your answers to quickly be made manifest (Matthew 18:18-19)

Tired? Feeling disappointed? We have a surprise for you. There is someone who cares for you and seeks the best for your life.
We love you and want to hear from you, send us your prayer requests, your queries, and make us known for others.

Thanks for your Love,
Pastor Moses Zewedi

About Pastor Zewedi.
Pastor Zewedi has traveled and ministered in many parts of the world, such as the United States, United Kingdom, Tanzania, Uganda and Kenya. He is married to First Lady Maureen and God has blessed them with a beautiful daughter, Glenda.
Pastor Zewedi holds a Diploma in Christian Living and Associate Degree in Practical Ministry from Grace Bible College and Seminary, Roanoke Alabama. He was ordained while in the United States by Richard Ellison, the Co-Founder and President of Help Ministries Incorporated.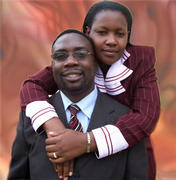 VICTORY MELODIES.
Victory Melodies is a dancing group of former street Children who are being supported by one of our affiliate Organization known as OASIS OF HOPE CHILDREN CENTER here in Kitale Kenya Directed by Mr Geoffrey Okumu.Victory Melodies was born early Last year whereby this Children Sing and entertains people through their dancing styles during our Crusade outreaches to the Villages.
Pastor Zewedi's Contact Information.Tel +254 735 76 79 65
www.liveschangingchurch.org